We Need Your Support - Senate Bill 249
SB 249 - Poster.jpg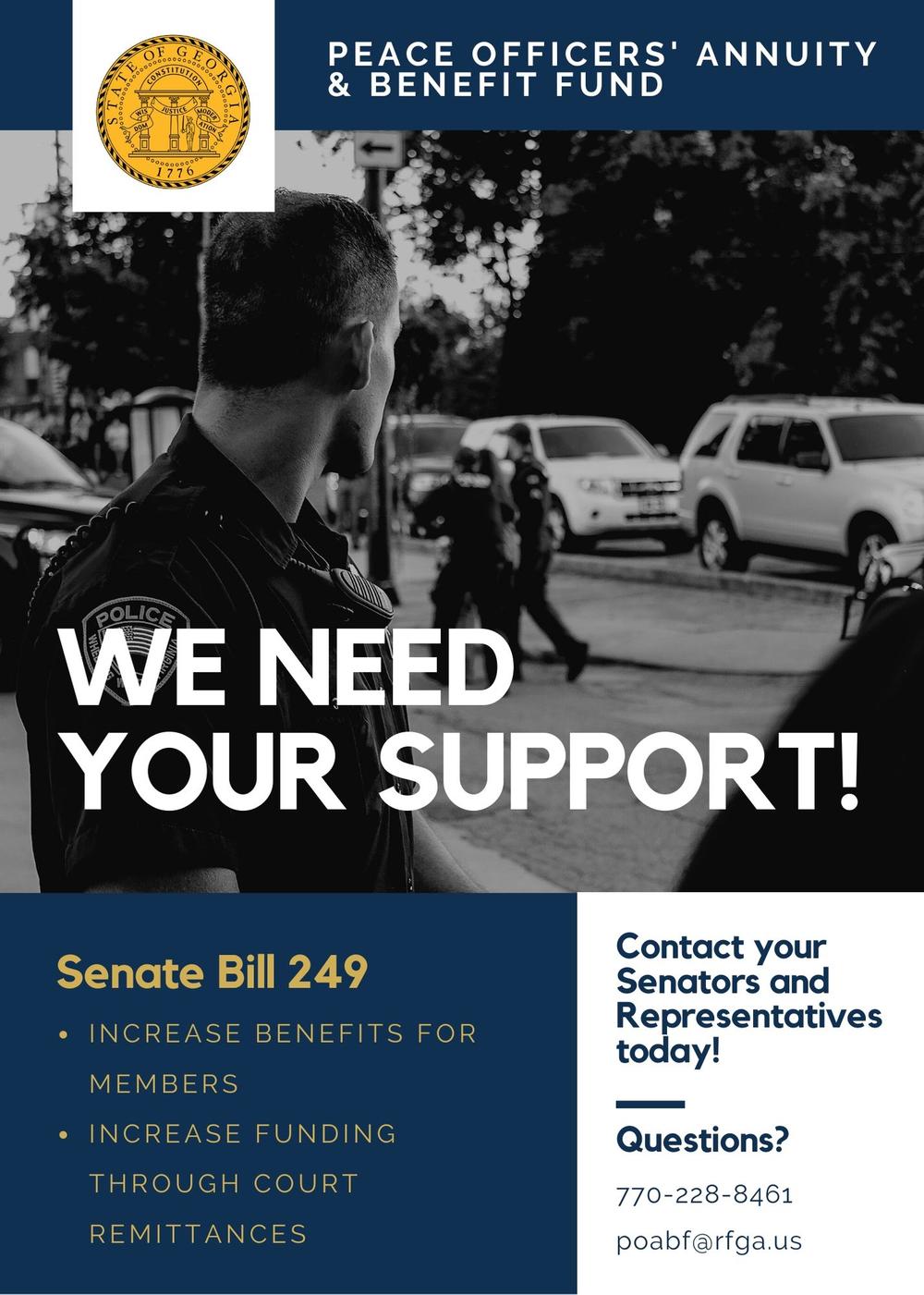 We need each of you to help in the passage of Senate Bill 249!  Please contact your Senator and Representative asking for their support of the bill.
Currently, the policing profession is facing a workforce crisis. Fewer people are applying to become police officers, and more people are leaving the profession, often after only a few years on the job. These trends are occurring even as many police and sheriff's offices are already short-staffed and facing challenges in developing a diverse workforce. The lack of qualified law enforcement officers is creating a public safety problem all over this state. 
Senate Bill 249 by Committee Sub will change the current financial formula to provide additional funds from fines and forfeitures. This funding comes from the courts and not the budgets of cities, counties, or the state. The current formula has not been changed in the last sixty years.
The Fund currently provides a monthly benefit of $754.50 to an officer after thirty years' membership in the Fund. As cities, counties and the state have decreased retirement benefits; the POAB is more important than ever. The additional funding under SB 249 by sub, will allow the Fund to increase benefits over the next two years. The goal is to increase the monthly benefit for thirty years of service to $900 per month.
This bill is supported by the Association of County Commissioners of Georgia, the Georgia Sheriffs' Association, the Georgia Association of Chiefs of Police, the Peace Officers' Association of Georgia, the Georgia Fraternal Order of Police, the National Organization of Black Law Enforcement Executives, the Association of Women in Public Safety, and the Peace Officers' Annuity and Benefit Fund.
Our law enforcement officers need your help in the passage of the proposed bill to help recruit and retain the officers that will make Georgia a safer and better place to live and work. Your support of Committee Sub to SB 249 will make a big difference. 
Thanks in advance for your help and support. Should you have questions, please give call the POAB Fund Office: 770-228-8461.